Extraordinary Educators, Inspiring Instruction
Music is our greatest passion. We are thrilled to be able to experience, study, compose, and perform music of all kinds, and we are grateful for the opportunity to share our knowledge and excitement with others.
Who are we?
Spellman Music Studios is a Brooklyn-based collective of enthusiastic private music instructors founded by dynamic music education duo Bobby Spellman and Emily Pecoraro. We are proud to have studied at several of the country's finest schools for performance and music education, including New England Conservatory, Ithaca College, Berklee School of Music, and the Boston Conservatory. More importantly, we pride ourselves in being active, creative musical artists with years of private teaching experience. We strive to be friendly, patient, attentive, and consistent, and we are always excited to work to help you reach your individual musical goals.
Where are we?
Our world headquarters is located in sunny, scenic Bushwick, Brooklyn, and we offer in-studio lessons as well as in-home lessons throughout New York City. If you prefer, we are happy to travel to your home anywhere in Manhattan, Brooklyn, or Queens, and in some instances we can even make it to the Bronx, Staten Island, Western Long Island, and parts of New Jersey. For the benefit of keeping rates affordable, we have no commercial brick-and-mortar location. Instead, we are able to provide in-studio lessons from our professional home studios.
What do we teach?
We are experienced teaching private and group lessons in instrumental and vocal performance, music theory, ear training, improvisation, composition, songwriting, arranging, sight-reading, and music technology. Our teachers are accomplished performers on one or several instruments, and each will use his or her expertise to help guide you towards instrumental excellence. Among the instruments we teach are trumpet, trombone, euphonium, French horn, tuba, saxophone, clarinet, flute, piano, guitar, bass guitar, strings, drums, percussion, and vocals. We specialize in band instruments, but have a team of educators well-versed in a wide array of instruments. We teach virtually any age or experience level.
What styles of music do we cover?
In addition to our formal training in jazz and classical music, we maintain an active interest in a wide range of musical genres from around the globe. We know that all music, regardless of its geographical, historical, or cultural context, shares the common aim of conveying ideas and emotions through sound. Furthermore, we believe that listening to and studying many different styles of music gives us new insight into our primary artistic interests. It would be impossible to include the expansive list of possible genres that we are able to cover, but we can say that it is important to us to knowledgeably cater to the styles of music that each of our students is most interested in studying.
Why Learn an instrument and study music?
Music has been a fundamental part of human culture since the beginning of human culture. It is a cathartic and communicative means of self-expression. Music is the universal language, and with it we can express a range of emotions beyond what can be described in words. Music is a social experience in which friends and likeminded strangers of all walks of life can get together to create art spontaneously. Performances also create opportunities for old friends and new acquaintances to meet up and experience live art together. Understanding music, like studying literature, history, and mathematics, is an important part of being a well-rounded human being. Furthermore, the study of music is known to aid in a better understanding of other, often unrelated, intellectual disciplines. Most importantly, the value of the music speaks for itself, and we hope that everyone is able to experience the excitement and joy that comes with the ability to study, compose, and perform this amazing aural art.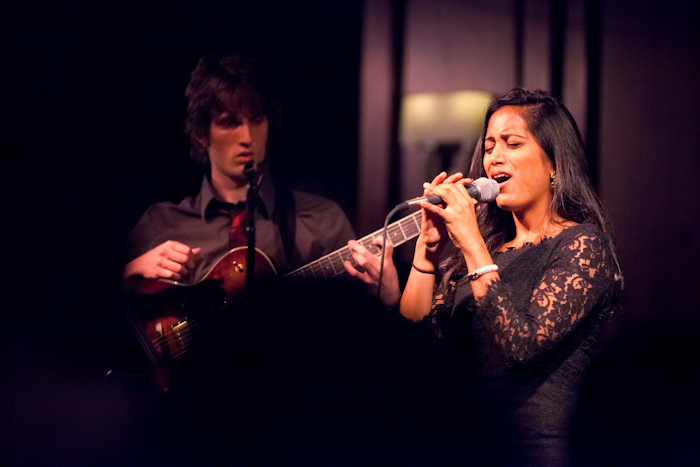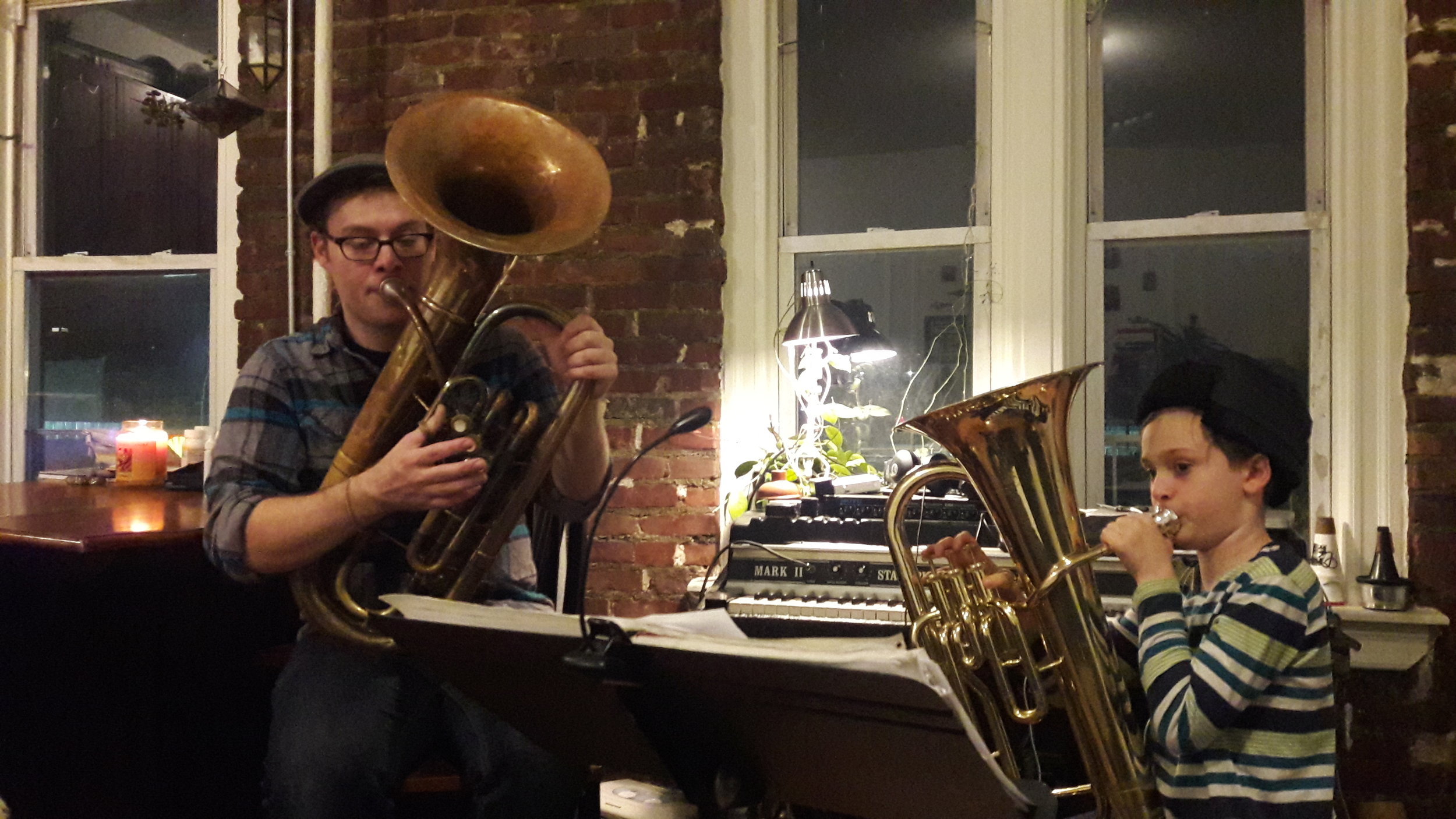 Testimonials
Bobby Spellman
"My eight year old son has now been taking lessons with Bobby for a year and a half, and he and I have both been extremely satisfied. Bobby has an excellent way of breaking down instructions into simple, clear, and enjoyable steps. My son really enjoys his lessons, has been asking for more. Bobby has taught him some beginner tunes, some jazz classics, and even the basics of jazz improvisation. I highly recommend Bobby as an instructor for any brass instrument." - Alex Khost
"I have taken trumpet lessons with Bobby S. for about two years now. What I really appreciate most about Bobby is his patience. As an older student, it can be very challenging to learn trumpet. Bobby presents his lessons in a way that is easy to understand. He takes the time to explore what my difficulties are. Then he presents me with ways to challenge them. Bobby also has a good understanding of music theory. He explains and demonstrates musical concepts very thoroughly." - Mike Innis
"If you are looking for an amazing and dedicated teacher look no further. My daughter is been taking trumpet lessons with Bobby Spellman for over a year and she is loving it. She learned a lot of different songs, and Bobby lets her choose new tunes while keeping her on track. The lessons are very well coordinated. Bobby is always very patient with her and passionate about his job." - Mariya Levitina
"Bobby is personable, fun to chat with, smart, and an all around great teacher! Bobby can customize the lessons for your goals. I can't recommend Bobby enough if you're just starting out fresh or picking up an old talent like I am." - Tom Wanielista
"Bobby was very patient and encouraging. Can't wait for our next session!" - Alba H.
"Bobby is a great teacher! During my time taking lessons, he always found a way to explain concepts in a manner that I could relate to. Coming from flute, I knew basic fundamentals of reading music and structure and Bobby took the time to make suggestions that were along the lines of my musical experiences and strengths. If you're looking to learn the trumpet, I'd definitely recommend Bobby because he's able to break down concepts and is very patient. If you've been playing trumpet for awhile and wish to get even better, I'd suggest taking lessons with him because Bobby definitely has the resume, experience and knowledge to help any trumpet player go further." - Donna Quinn
"Bobby was able to cater to my abilities and really tailored each lesson to me. Thank you Bobby!" - James Mitaritonna
"Bobby has a great talent for breaking down complicated music theory concepts and explaining precisely why they are important to your progression with the instrument. I started taking lessons with him after having taken a ten-year hiatus from the trumpet. During the first lesson, he was immediately able to identify where my abilities had eroded and gave me exercises to improve my technical skills. He also to helped me improve my sheet music reading skills, even transcribing some of my favorite songs into sheet music that I could memorize. I would highly recommend Bobby as an instructor. His enthusiasm for music and teaching is infectious!" - Michael
"Bobby is very professional and knowledgeable. He indeed knows what he is doing and I really enjoy his class. I don't think I would choose another trumpet instructor other than him." - Xian Zhou
"Bobby is a very knowledgeable, patient and extremely proficient teacher. Am having fun learning to play trombone with him." - David G.
"My jazz instructor in High School led me to Bobby three years ago. He taught me a lot of things about playing the trumpet and greatly increased my ability as a trumpet player. He inspired me to want to get better at playing through encouragement and his high quality playing. Every lesson is very personal and fun. I know that sounds cheesy, but I looked forward to every lesson I had with Bobby. Bobby is a very skilled player, and unlike many great players, he can teach just as well as he can play. If you take lessons with Bobby your trumpet skills will vastly improve, and if you want to learn jazz, Bobby teaches jazz theory as well as he teaches trumpet, if not better. The last thing I have to say is something that Bobby told me at our very first lesson, "we will both learn from each other, you will learn trumpet and jazz skills, and I will learn how to effectively teach you." Every lesson with Bobby is extremely personal, and he is constantly improving his already great teaching skills." - Steven Ferrara
"My son can't wait for his next lesson!" - Alexandr
"Bobby is a very devoted and amazing teacher. Honestly, if you want to be really great he will give you all the tools you need to do that." - Rachel M.
"I took lessons with Bobby for several years throughout middle school and high school and he was by far the best trumpet teacher I've ever had. He is an extremely devoted and hardworking individual and is very passionate about his teachings and music.
He always had a solid lesson plan each week, teaching me technical skills along with improvisation and music theory. What stood out most was his animated and enthusiastic personality, which made me look forward to lessons each week. He taught using a very Socratic method, guiding me along much of the complications of music theory and allowed me to gain my own understanding of musical concepts.
Bobby was easy to communicate with and very willing to help expand my playing in whatever interest I had at the time. I highly recommend lessons with him." - Ben Craig
"Bobby is a wonderful, patient teacher, and is passionate about his work with his students. Bobby really connects with all types of learners, which makes his instruction flawless." - Leanne C.
"Bobby is one of the rare musicians who is both great at his instrument and also great at teaching. Bobby was never limited to one technical manual and had numerous exercises and pieces of music at his finger tips to always inspire me. When my motivation was lacking regarding Clarke exercises Bobby even transcribed a few pieces I had chosen that the music did not exist for (Black Eyed Peas on trumpet!!!). Bobby was always on time (early) and completely prepared for the lesson. He knew the hangups with playing the trumpet and how to fix them.
I give Bobby my highest recommendation... something I rarely do." - Dustin Hines
Emily Pecoraro
"My daughter had the most wonderful first lesson I could have hoped for! Thank you for making her education enjoyable.. it already left her wanting to come back!" - Lexi Coss
"Emily is warm, energetic, very professional and talented. We love her!!" - Nikki A.
"Perfect match for my son, he enjoys working with her very much. She is whip smart, engaging and encouraging. I could never have imagined how well this would work out." - Carolyn
"Fantastic! Feisty, fun, entertaining, energetic, organized, positive, focused, cool, and KNOWS HER STUFF!" - Senlee D.
"Great! Professional, smart and talented." - Benjamin G.
"Emily is a top-of-the-top musician and a fantastic teacher! She is so easy to get along with and loves to work with all ages/kinds of people. Her professionalism and positive attitude are second to none, and make her a great role model. 11/10 stars!" - Matt
"Emily is a great teacher and player! She has tons of experience and tailors the lessons to fit your needs. She has lots of positive energy and is always inspiring and motivating." - Skyler Hagner
"I have had the pleasure and privilege of working with Emily over the past couple of years at the Ithaca College Summer Music Academy. As both a former counselor and now an instructor, Emily has such a good way of working with students of any age, as well as adults who happen to be her colleagues. She never fails to put a smile on anyone's face, and from the times I have heard her play clarinet, bass clarinet, and saxophone, I have always been blown away by her musicality, talent, and yearn to expose interesting and unexpected works to those who ordinarily wouldn't have the chance to hear them. She is a multi-talented person both inside and out, and I would fully recommend her in any capacity you might seek." - Jonathan
"Working with Emily at the Ithaca College Summer Music Academy this past summer showed me her excellent teaching, leadership, and musicianship. I was able to attend multiple concerts in which Emily performed incredible music on a variety of wind instruments, as well as learn about the music theory class she was teaching on pop music. In the class she analyzed the music of artists such as Rihanna, Sia, and Lady Gaga, giving value to all types of music and relating to the high school students with music they enjoy. Emily is an inspiring musician, teacher, and friend who I would trust in any situation." - Adam
"Emily has a strong commitment to making sure her students are learning about music while continuing to enjoy what music can bring to their lives. She not only taught me how to read, listen to, and study music, but she taught me why music is important and how I can live it. Emily teaches with grace and poise. She finds a way to relate to students of any ambition or experience. As a high school student looking to still be involved in music in college, Emily was able to find connections in several cities for me because of her numerous experiences of networking in the music world. She has a broad range of musical talents and has the ability to immediately connect with her students. Emily has not only been a great teacher for me, but a great friend." - Matt